These days there are so many groups appearing on Facebook promising 20 or 50 facts about something. The best video you have ever seen. Or something else. But only if you join and invite as many friends as possible. Sometimes the title sounds quite interesting, but I do not want to join such a group just for the purpose of passing some time and reading some (promised to be) funny story.
But there are tools to show the content of those groups easily. It is tested with three different groups, but I do not know what exact possibilities Facebook gives the group owners. Might not work everywhere. Everything you need is the Firefox Plugin Firebug. I do not know if something similar is available for other browsers. To understand a bit HTML is also an advantage.
Go to the page of the group, you want to see.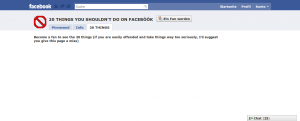 Right-click on the free space, where you expect some content. Click "inspect with firebug" and the firebug frame opens. See if the selected code marks the space on the page, if you move the mouse there. The particular code should include either "visibility: hidden" or "display: none".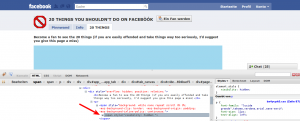 Change the value of this particular tag (the word after the colon) to "block" which is (at least for the display tag) the right value to show the object.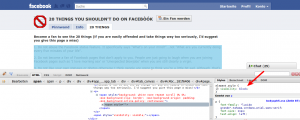 And like magic the content shows up. Repeat so for any other invisible object that might be there.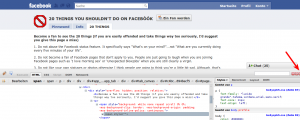 Close firebug again.
You have now successfully fooled Facebook to reveal some content for you.
The plugin firebug was developed for web developers who want to play with some code directly on webpages. I used it quite a lot while adjusting the grava design to this page. But the plugin can do a lot more.