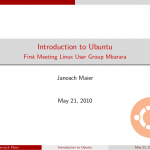 Yesterday we had the first meeting of the Linux User Group Mbarara. We met in the Computer-Lab of Mbarara University of Science and Technology (MUST) and about 40 people attended this first meeting. Most were students of MUST, but there were as well some from the outside (as me for example).
The first topic was my presentation (Pdf, Xetex), introducing Linux and especially Ubuntu.
Then we discussed what settings would be appropriate for the LUG Mbarara. Here is the result:
We will meet once in a month (at a Friday 5pm), and until somebody has a better idea, we will meet somewhere at MUST. Next meeting will be on Friday 18. June 5:00 pm.
The Ubuntu 10.04 CDs, I gave out for fee, were sold like hotcakes. It was amazing. Quite a lot of the students had already some experience with Linux. I did not expect it to be like this. And some also came with their laptops to get a problem fixed. The mainly used Linux distribution there was the Ultimate Edition a distribution I had never heard about before.
Unfortunately I could not make so many pictures as I was giving the presentation myself.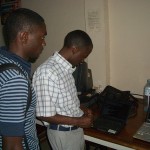 Thanks everybody who was involved in the planning for this meeting for the great work you have done. As I arrived, I just connected my laptop and we started. Special thanks to Robert from MUST for setting up the place, Thomas for his input for my presentation and the help during the event and Simon and Kyle for inspiring me.  😉
I am looking forward to the next meeting because I think it will be a benefit for all of us. I hope I could make some advertisement for Free Software and Linux especially. And at least I had a lot of fun.